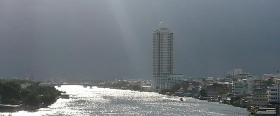 Chao Phraya River, Bangkok". Photo: Paul Rabé
Call for expressions of interest
Join the River Cities Network (RCN)
The International Institute for Asian Studies (IIAS) is inviting Expressions of Interest (EoI) from teams who wish to join the River Cities Network (RCN) working group and network. RCN welcomes applications from project teams from all over the world.
About the River Cities Network (RCN)
River Cities Network (RCN) is an initiative of the International Institute for Asian Studies (IIAS), Leiden, in collaboration with interested partners. The initiative seeks to revitalize urban rivers and the ecological, social, cultural and economic (eco-)systems linked to these rivers. The outcomes are envisaged to be applied in nature—culminating in urban revitalization projects—as well as knowledge-based, leading to new epistemological and methodological insights about "transformational resilience" for urban and environmental theories and for university/school curricula.
RCN is envisaged as a working coalition and, ultimately, as a network with its secretariat at IIAS. RCN brings together multiple local project teams, each of which work on their own river-city case study. Joint activities and components include a peer-learning environment whereby project teams exchange experiences and lessons with each other, as well as joint workshops and outputs for further development of theory (publications, etc.), practice, and pedagogy.
RCN will comprise several case studies of "disrupted rivers" in Asia, Africa, Europe, North America and Latin America. "Disruption" is usually a consequence of both natural and human-induced activity. Project teams comprising local scholars, scientists, and activists will engage with a broad range of stakeholders in seeking to revitalize the stretches of river that they select as case studies. By addressing processes of disruption in their cases, each team will contribute insights about what "transformational" resilience means in their own contexts. Transformational resilience acknowledges that there are often longer-term, structural reasons for the disruption of rivers. Beyond technical solutions, these require a normative stance that enables an inclusive participatory approach to overcome destruction of river-city ecosystems and to identify new pathways that will benefit rivers and the plant, animal and human life that depends on these systems.  
Each project team will make its own context-specific interpretations of concepts such as disruption, justice, transformation, and resilience. These interpretations will be shared and evaluated with other river city teams—thus helping to build an alliance of like-minded, concerned colleagues. This alliance seeks to be truly "global" in nature, with learning between and within the global North and global South. 
RCN adopts a trans-disciplinary approach, bringing together knowledge of river ecosystems from the humanities, the social sciences, and the natural sciences around three main project components, which strengthen each other: river bios (histories and stories of the river), spatial analysis (layer mapping of the river and its environs) and transformation (activism to achieve river revitalization, through networks of stakeholders). 
Inviting Expressions of Interest
IIAS is inviting Expressions of Interest (EoI) from teams who wish to join the RCN working group and network. RCN welcomes applications from project teams from all over the world. Together with the newly recruited teams, the RCN coordinators and advisors will work on a funding proposal to help build the RCN network, and which will help to fund network's activities. In the meantime, the RCN project teams may start their work through a combination of own funds and (where available) limited other funding. The RCN project teams can also start forming collaborative working groups within the network for knowledge exchange and strategic initiatives for river revitalization, and/or to work in smaller groups should any possible local or regional funding opportunities appear.
The benefits of joining the RCN working group and network include access to a diverse and global network of professionals and scholars working on the river-city nexus; collaborative workshops and other activities to share insights on a peer-to-peer basis; and joint publications. The RCN partners will have considerable freedom to determine together the shape of the coalition and its common activities. 
Eligibility Requirements for Applicants
Applications should be submitted by a Principal Investigator (scholar, scientist and/or activist), who represents a team. See the eligibility requirements for teams below.
Applications should be submitted via the online form below. The deadline for submissions of EoI is 15 August 2022.
For questions about this Call or about RCN, please contact Paul Rabé, Coordinator of the IIAS Cities Cluster (p.e.rabe@iias.nl), or Satya Patchineelam, PI of the Xingu River pilot project (s.maia.patchineelam@iias.nl).   
Applications to join RCN should meet the conditions specified below.
Lead applicant
Applications should be submitted by a lead applicant who heads a case study team. The lead applicant will be considered the "International Principal Investigator (PI)" of the team.
The lead applicant should be a scholar or activist with demonstrable experience in research, teaching and/or activism on urban environmental topics.
The lead applicant is considered the "international" PI because this person should have demonstrable experience and/or familiarity with international debates and theories around urban resilience. The International PI should also be able speak and write with ease in English.
Composition of the case study team
The lead applicant will head a team consisting of a local Principal Investigator, research assistants, and other members, as needed.
An ideal case study team will comprise members with different disciplinary and professional backgrounds, to ensure that the case study is approached in a trans-disciplinary fashion.
The Local PI will manage the case study team and assume the day-to-day responsibility of liaising with local stakeholders.
Local research assistants can be students and/or members of local NGOs or community-based organizations with an interest in the case study.
The size of the case study team will depend on what is needed to implement the three components outlined in the application and detailed in the RCM web pages.
Definition of the case study area
The case study area that the applicant team focuses on for the RCN project should be a stretch of river that has experienced some form of "disruption" in its recent history, which the applicant team seeks to address through its river revitalization plans. The case study area should preferably be in an urban or peri-urban area (see definition in this section below). Applications should make clear what stretch of the river the team will focus on, and why.
"Disruption" is defined as a human-induced event, possibly in combination with natural and/or climate-induced phenomena.  
RCN seeks to critically evaluate human interventions in rivers and river systems over time. Thus, the scope of the network is primarily urban or peri-urban. However, the network's definition of "urban" is broad: it acknowledges the urban-rural continuum as well as human settlements or industrial or mining areas outside of cities. Applications that propose to look at human interventions outside of cities will therefore also be considered, as long as the focal area has been the subject of intensive human activity.
Go to the Expressions of Interest application form »